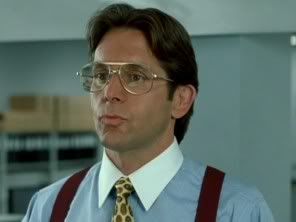 (Photo courtesy of Garycole.com) 
According to John Lanser's blog homes in California fell 22% from March 2007 to March 2008.  We all knew that prices were falling, but to hear the year to year drop makes it seem so much worse than it is.
Just like Bill Lunbburgh questioned Peter Gibbons in Office Space, I wonder if these Mission Viejo sellers missed the memo.   Really folks, did you miss the TPS report?  Prices are going down, so I just can't understand your pricing strategies.
22946 VIA PIMIENTO
3 beds / 2 baths / 1,156 Sq Ft
Previously Listed:  $200,000
Currently Listed:   $260,000
27906 Amber #231
2 beds / 2 baths / 1,221 Sq Ft
Previously Listed:  $349,999
Currently Listed:   $359,999
28101 Somerset
4 beds / 3 baths / 2,200 Sq Ft
Previously Listed:  $599,000
Currently Listed:   $650,000
27876 Via Sarasate
2 beds / 2 baths / 1,505 Sq Ft
Previously Listed:  $425,000
Currently Listed:   $449,000