It seemed that March roared in like a lion and out like a lamb.  A few weeks ago I reported (See "Skeptical") about how there was a bit of positive news reported in March and everyone started crying bottom.   Yet, more news is out that the lion/lamb thing wasn't much of a reality.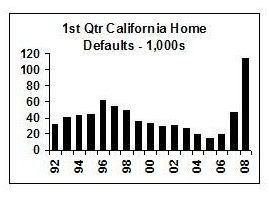 A few weeks ago Dataquick News reported that foreclosure activity in California had spiked.  They reported that 47,171 homes were lost to foreclosure in the first quarter of 2008 alone. 
As you can see from this chart, the numbers are continuing to not only rise, but spike sharply.  With this continued trend we just might see that predicted loss of value on homes rounding 20% in 2008 rather quickly here. 
This influx of foreclosed homes will certainly not help home values any.  Perhaps these Mission Viejo sellers are feeling that pressure and are reducing their asking prices accordingly.
24573 Pallas Way
4 beds / 2 baths / 2,389 Sq Ft
Previously Listed:  $600,000
Currently Listed:  $575,000
21145 Foxtail
3 beds / 3 baths / 1,700 Sq Ft
Previously Listed:  $650,000
Currently Listed:  $585,000
28322 Leticia
3 beds / 2 baths / 1,584 Sq Ft
Previously Listed:  $687,000
Currently Listed:  $657,000
23361 Via Arevalo
2 beds / 2 baths / 1,200 Sq Ft
Previously Listed:  $469,900
Currently Listed:   $449,900